KORE Advanced Interlock System (AIS)
The Advanced Interlock System is a versatile, sophisticated, yet easy to use remote interlock system.
The cabling is based on 3pin XLR connectors (any microphone/DMX cable works fine) with a completely free wiring topology.
AIS supports parallel as well as serial (daisy chain) wiring while maintaining full functionality over distances up to 4km total length. The KORE features a so called "remote interlock input" as well as a "remote interlock output". These labellings shall be considered more as a help of orientation - it has nothing to do with any signal direction.
The AIS allows multiple e-stop boxes within the interlock network without defeating each other. They work together and it is possible to stop the lasers from any e-stop in the network.
The e-stop boxes are powered by at least one KORE laser projector. Each KORE laser projector can power up to 2 e-stop boxes, meaning that an interlock network with 4 KORE lasers projectors could theoretically enable 8 e-stops. The maximum amount of e-stop boxes in one network shall not exceed 10 though.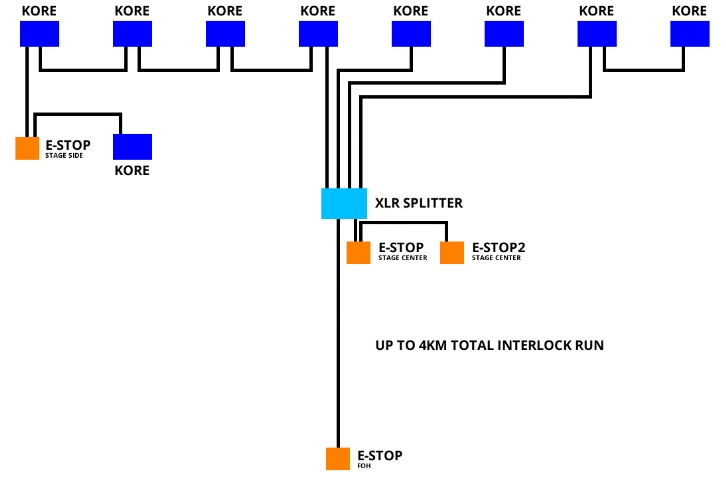 The KORE e-stop box is a perfect fit to any KORE laser projector.
It features two female and one male XLR 3 pin connector for flexible cabling. For example, use the male "input" connector for wiring up a second e-stop for another person next to your control gear and use the other two "outputs" for your interlock runs to the stage (one as a backup run).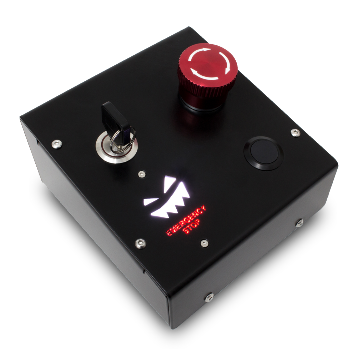 The e-stop box's logo lights up orange if there is a KORE laser connected. Make sure that the e-stop is released and the key-switch is in its "on" position. Now push the "activate"-button for at least 5 seconds and all KORE laser projector's emission LED strips will light up. You can also have a look onto your e-stop box as the logo will turn from orange to white, once all KORE in the network are activated and ready for emission.
If you push the e-stop or turn the key-switch off, the "EMERGENCY STOP" label will light up red and all the projector's emission LED strips will turn off (and therefore laser output will be disabled). Any e-stop box in the network will show that an emergency stop has been performed. All e-stops need to be released and all key-switches will need to be on "on"-position in order to reactivate the lasers again.
The KORE AIS works differently than any other interlock systems on the market. But since we know that there are some situations where a bridging adapter is the only solution for fully automated operations, we ship every KORE with a special interlock connector which enables the laser output 5 seconds after the projector gets powered.
Notice: Any other bridging adapter by other manufacturers will not work (the "Interlock Status" LED will light up red).