EyeMagic is a manufacturer of high performance and precission laser scanning systems.
The EMS-6000 series is a small, fast and reliable scanning system.
The EMS-6000, also called "blue", is designed for space and cost sensitive applications. The driver is analog, dual axis (drives both scanners) and is slightly smaller than a credit card.
The motors have inherited the design of the legendary EMS-4000 scanners, meaning that is almost impossible to damage them, even if you grab the mirror with your fingers during scanning.
The scanner mount looks simple, but packs an unbelievable number of different configurations. You can place the X scanner down or up, receive the beam from left or right and choose if you want the 15° setback between X and Y in all of the above setups.
Literally, the mount can be configured in every possible way, no exceptions.
The back side of the motor has a centrally placed low profile connector for connection to the driver, so the scanner can rotate freely at 360°, necessary for the different setups.
The position sensor amplifier is built into the scanner, there is no need for cumbersome dual shielded scanner-to-driver cables. EyeMagic uses a very flexible flat cable which can be bent and routed very easily inside your system.
EMS-6000 offers 2 different mirror sizes, for 4.5mm and for 5.5mm apertures. The mirrors are rectangle, without chamfering, to accommodate square shaped (diode matrix) beams.
EyeMagic stocks whitelight dielectric (400-700nm), YAG dielectric 1064nm and protected gold CO2 mirror material. Contact us for your special requirements.
Power requirements
+/- 24V DC, 2A per rail
Control voltage
+/- 5V differential, +/-10V single ended
Scan field

54° optical

Linearity

99.9% over 40° optical
Small step response
4.5mm: 250µsec (38k 8° ILDA)
5.5mm: 280µsec (33k 8° ILDA)

Coil resistance
0.87 Ohms

Realtime position out

+/- 10V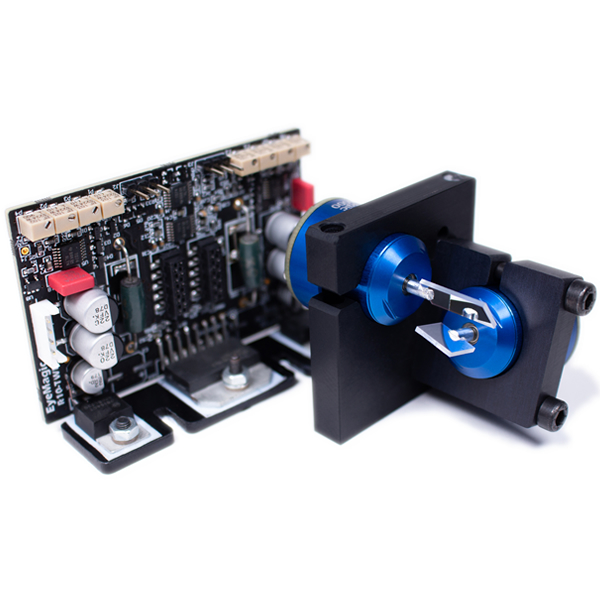 Components
Small, fast and reliable scanning system for beam sizes up to 5.5mm. Made in Greece.
Add